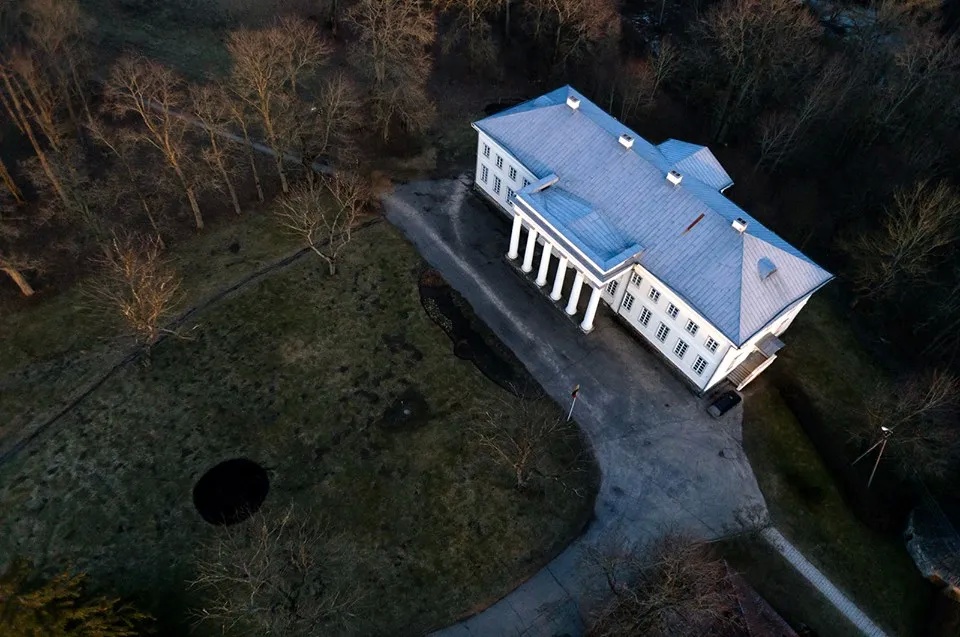 The ensemble of Cirkliškis manor homestead, created in the first half of the 19th century, is harmoniously integrated into the natural environment on the initiative of Domicėlė Sekežinskaitė – Mostovskienė. The homestead's plan is simple, rational, quite free. The palace, servant's quarters, ice cream parlor and other buildings surround the representative quadrangular area; and the farm huts are freely located along the roads.
The Manor stands on the axis of the entrance alley, on the terrace of the stream valley. It was built around 1823-1830 by Edward Mostowski by the project of an architect from Vienna. The manor is two-storey building, covered with a four-sloped roof, the shape of the biulding plan is a regular rectangle, with a portico and risalite protruding symmetrically on both long facades. The portico columns are about 4 m away from the wall to allow access to the main door. The exterior of the palace has strict forms of classicism. The main façade is dominated by a six-column portico with a three-part abutment but no pediment; in its place there were two large sculptural figures. In the center of the southeastern façade protrudes risalite, highlighted by four pilasters and a triangular pediment.
The building is surrounded by an entablement; the windows divide the building evenly- the upper ones are almost half the height of the lower ones.
Address:
Vilnius county,
Švenčionys district,
Cirkliškis village.