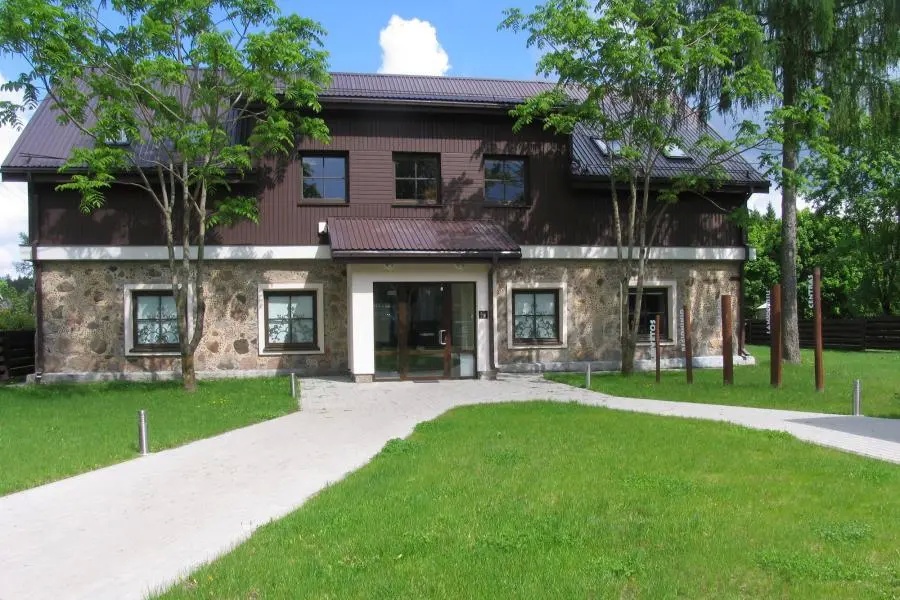 On the ground floor of the Sirvėta Regional Park Visitor Center there is an internal exposition based on the theme "Mythology". The main element of the exhibition is the Tree of Life, or the World. Based on this symbol, our ancestors explained the structure of the world, the eternal circle of life. The exposition reflects three main elements – Nature as an integral part of it – a Person, who has been creating culture for a long time. Tales and legends are a big part of the culture that has reached us to this day.
Around the tree, inside and elsewhere, various signs and symbols can be seen. Each of them has a unique meaning and hides more information than just a word. These signs are intertwined in prayers to Žemyna (Goddess of Earth), Thunder and Gabija (Goddess of Fire) written on the glass partitions separating the spaces of the individual rooms.
The meaning of the symbols can be interpreted by the visitors using the encryption tables in this unique visitor center language – or they can rediscover them elsewhere. Inside the Tree of Life, you can listen to the tales, immersing yourself in the mythical world…
Information of interest can be found in the Information Terminals. In the one with the Tree of Life, information is provided on mythology, the old approach to the environment, the structure of the world, as well as rare plants and animals found in the regional park. There are also two games in it – one on a natural theme and the other on mythology.
In the next terminal, which is linked to the map of the regional park, you will find general information about the protected area, about natural and cultural heritage sites, nature trails and routes and interesting facts about these places.
Opening times:
I – IV 8.00 – 17.00
V 8.00 – 15.45
VI 10.00 – 16.00 (only during the season from May to November)
Coordinates 640292, 6119776 (LKS) or 26.203510, 55.193616 (WGS). It is possible to arrive from Švenčionys or from Ignalina by taking the 102 road Švenčiony-Ignalina. On the 6th kilometer from Švenčionys, next to the stone on the road, there is a turn to the right – to the village of Šventa, where the Visitor Center of Sirvėta Regional Park is located.
Additional information:
Recommended / suitable for visiting with children, adapted for people with reduced mobility