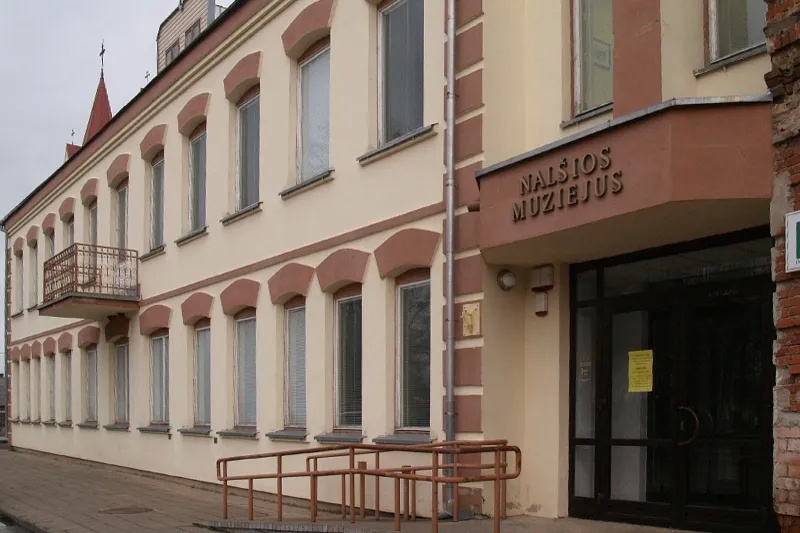 The Švenčionys Museum of Local Lore was established in February 1945. The museum's funds consisted of teaching aids used in the school, a collection of minerals, stone axes, and a collection of coins and banknotes.
On the 19th of November, 1992 the name of the Švenčionys Local History Museum was changed to "Nalšia Museum" by the resolution of the Švenčionys District Board. The museum collects exhibits of history, nature, archeology, crafts, business and household, organizes expeditions (ethnographic, archeological) to collect them, researches and promotes the ethnocultural heritage of the country. The Nalšia Museum has over 64,000 exhibits. There are stored unique archeological finds from the Stone and Brass Ages from the settlements of the Kretuonas district: jewelry, work and labor tools. In the collection of numismatics: Vaclav IV Prague groats, Sigismund Augustus half groats, Russian kopecks and 20th century coins and banknotes.
On the 14th of February, 2000 Nalšia Museum has opened its doors in a new building. Exhibits of nature, archeology, history, everyday life and ethnography are exhibited in three exhibition halls. The exposition shows: chests of drawers, cabinets, sideboards, other household items of the township.
Opening hours of the administration of the Nalšia Museum and visits to expositions and exhibitions
time
Opening hours of the Nalšia Museum administration:
Monday to Thursday 7:45 to 4:45 p.m.
On Fridays and on the eve of public holidays from 7.45 am to 3.45 pm.
Lunch break 12.00 – 12.45.
Visiting expositions, exhibitions:
Tuesday-Friday 7.45 – 16.45
Saturdays 7:45 – 3:45 p.m.
On the eve of public holidays Museum closes 1hr earlier.
Closed on Sundays, Mondays and public holidays
Contacts:
Nalšia Museum,
Laisvės a. 1, LT-18111,
Švenčionys
Tel.: (8 387) 51 831,
E-mail: nalsiosmuziejus@gmail.com
Websites: www.nalsia.lt, museum blog (nalsia.blogspot.com)
Reškutėnai branch of Nalšia Museum
The branch of Nalšia Museum, Reškutėnai Museum was founded by teacher Izidorius Kazakevičius. The exhibits accumulated over several decades reflect the history of this region. Here you can get acquainted with Lithuanian publications of various times, see musical instruments, old household items, archeological finds, a collection of stones, even a meteorite. Reškutėnai Primary School of the Rytas Society, where the museum is located, was entered in the Register of Cultural Values ​​of the Republic of Lithuania in 2008.
Opening times:
The museum can be visited by prior appointment Tel.: 861607510
Contacts:
Reškutėnų St. 44/47, Reškutėnai,
Švenčionėliai eldership